Smart watch 205
(1) Our app requires that you are running an operating system that runs on Android 4.4 or above or iOS 7.0 or above. It is necessary to accept and agree to all terms and permissions.
(2) In order to connect your watch, you would be required to allow Location access.
(3) If you are using an iPhone and are being requested to open your Bluetooth then please go into the Settings on your phone then scroll down to the VeryFitPro app and then tap there. In those settings, please turn on the Bluetooth selection.
(4) You do not need to connect directly to your Bluetooth settings. Your watch is intended to be connected inside the VeryFitPro app.
(5) Please ensure that you have your Bluetooth turned on. Our app will connect to the tracker in the binding process initiated on the "Device" page of the app. To start, please press "Bind" on the "Device" page.
(6) While binding to the app, please tap on the touch key (rectangle or circle on the front of the tracker) this will activate the screen and make the tracker discoverable by the app when it is searching.
(7) The search has been successful when it displays a list of devices to select your tracker. Please tap on the model of your device. Typically, the device will start with "ID" please refer to manual to see what the model number is. It will be displayed on the front of the manual.
(8) If you are continuing to have issue with the tracker connecting, then please restart your phone and attempt binding again.
(1) Please wear the tracker while you are sleeping in order to have sleep data.
(2) Sleep data is estimated by primarily movement. When you have laid down for sleep, the tracker will take approximately an hour to assume that you have gone to sleep.
(3) Please note, these circumstances will negatively impact the tracker's ability to estimate your sleep habits:
If you are particularly active during sleep, such as tossing or turning.
If you have been diagnosed of a disorder that might affect your sleep patterns.
If you are getting up multiple times a night.
We have designed the watch so that it will display upon a slight flick of the wrist, as this action is used less commonly used in daily habits. The tracker may take a second or two to light up the screen as well.
Initially, please check these settings:
- Bluetooth needs to be turned on.
- Do not disturb must be off in your phone settings for the tracker to receive notifications. If you have some of
our newer devices, then please ensure that do not disturb is off on the tracker as well. The icon looks like a crescent moon. This option is found on the status bar
on the watch. If you are unsure of where the status bar is, then please check the manual. Ensure all permissions are enabled.
For iPhone devices:
- Settings -> Bluetooth -> go into the settings of the tracker listed starting with "ID" by tapping the "'" in a circle -> Turn on System Notification
- Settings -> Notifications -> For Phone and Calendar
make sure Allow Notifications and Show in History are on
- Settings -> Notifications -> For Messages make sure Lock Screen, Notification Center, and Show as Banners
are all turned on. In this menu also, please ensure that you have Show previews set to Always.
For Android devices:
- Settings -> Apps -> VeryFitPro -> Permissions
Please turn on all of this permission
Please make sure that notifications are turned on for all the apps that you want to receive notifications from.
For Samsung phone:
- Go to Messages -> tap menu icon looks like three dots in the top right -> Settings -> Notifications -> turn off App icon badges
You would need to be within Bluetooth range of the phone in order to receive any notifications.
When you are receiving a call, the tracker will display the number of the caller as well as the caller's name if it is saved in your contacts list. You have the option to
refuse a call on the watch.
There are no changes in the intensity or number of vibrations for any alerts or notifications on the watch.
Things that could affect the tracker's ability to read heart rate include skin complexion, hair, tattoos, scaring, wearing the tracker too tightly or loosely,
clenching arm or fist, and sweat.
This tracker is meant to be used for general purpose and is not intended to offer data viable for medical use.
This tracker is accurate within +/- 20 bpm.
The most important part of this would be to make sure that you have entered in your personal information in correctly. VeryFitPro app -> User -> Personal Info
Your height/stride length will let the tracker determine your steps. Please ensure that information is correct
Please see entry followings on this list:
(1) Why does my tracker show me doing steps when I am not walking
(2) Steps don't show up right away when I start walking.
(1) Yes, step counting, heart rate, alarm alerts, and sleep tracking all work while not in connection with your phone.
(2) Please keep in mind, however, phone and SNS alerts will not be communicated without Bluetooth connection.
(3) The tracker has internal memory that will allow it to retain information up to 7 days. Though, it is suggested that you sync your tracker more regularly than that. Good practice is once every other day.
(4) Please also be aware that if you would like GPS to be used for any sports modes then you would have to bring your phone with you as our tracker does not have GPS built into it and relies on GPS signal from the phone.
Smartwatch 207/207mini
Try the following and pair again:
Turn the phone's Bluetooth off and then on again.
Make sure the device has sufficient power and is close to the phone.
Reset the device to factory settings and pair again.
Go to Settings > Bluetooth on your phone, tap "Forget this device and pair again.
1. Go to "Settings > Bluetooth" on your phone, and find this device.
2. Tap on the device and select "Ignore this device"
If this device has been connected to another phone, please select "Ignore this device" in Bluetooth settings of that phone, and connect again.
(1) Ensure that you always wear the device when asleep; otherwise, no sleep data will be available when you sync the device with the VeryFit app.
(2) Sleep will be tracked around the clock. However, your sleep will be recorded only if it lasts for three hours (there are three stages of sleep: deep sleep, light sleep and REM sleep). Going back to sleep after getting out of bed, sleeping in, or playing with mobile phone in bed will affect the recording of your sleep.
(3) If you don't wear the device before going to bed, or if you take off the device immediately after getting up, the recorded sleep time will be prolonged or inaccurate.
(4) The all-day heart rate detection feature is disabled, the detection function will be inactivated. That is, the device will be always in Worn state or Non-Worn state, resulting in no sleep detection or inaccurate data.
Yes, 5 ATM rate.
The device is waterproof and can be worn in a shower, but the water temperature must be controlled below 40 °C.
The device is suitable for use in showers, swimming pools and shallows, but is not suitable for use while diving or in a sauna. It is not resistant to acidic and alkaline solutions, chemical reagents and other aggressive liquids.
(1) For better experience, please download the latest VeryFit app.
(2) To install the App, please make sure that the operating system of your mobile phone is Android 6.0 and above, or iOS 9.0 and above.
(1) The device does not need to be connected to your phone to count steps, record sleep data, or use the alarm clock. For example, you can do your exercise while wearing your device, and then connect the device to your phone and perform a sync to view exercise data.
(2) Alarm clock: Use the VeryFit app to configure the alarm time and sync it to the device. Once you have configured the alarm time, you can disconnect the device from your phone.
(3) To use the Call Reminder and Find Phone features, you have to turn on your phone's Bluetooth and connect the device with your phone.
Factors like wearing the device too loosely, swinging your arms, or sliding off the device over your skin can impact heart rate readings. In addition, wearing the device too tightly, raising your arms, or clenching your fists can affect blood circulation, which also affects sensor performance.
When testing your heart rate, it is recommended that you keep your arm straight, remain static, and relax your muscles. Ensure that the device remains in close contact with your skin.
Note: Even when you wear the device correctly, individual differences such as skin color, body hair, tattoos, and scars can also affect heart rate sensor performance slightly.
The accelerometer and algorithms that the device uses to count your walking steps are highly sensitive, even small differences may affect the accelerometer and algorithms.
You must provide accurate personal data during the device's initial configuration. For example, if you enter wrong gender, height, weight, or age, it would result in inaccurate exercise data, such as incorrect counting of steps, distance, or calorie
In addition, factors such as your arm swing, stride, posture, road surface, and slope can also affect the step count.
Hairdryer SKY-M200
The time it takes to dry is up to your hair type. For shorter hair it usually takes 2-3 minutes to fully dry. For longer hair (shoulders & down) it generally takes around 5-12 minutes for a complete dry.
The first button on the handle is for speed setting, there are 2 options, slow and high-speed airflow. The second button is for the heat setting, there are 4 options, cool, warm, hot, and alternate cool and hot. Set the hair dryer as you wish.
The air inlet nozzle is at the bottom of the handle, unscrew the air inlet nozzle counterclockwise, and then wipe the filter with an old toothbrush or a cotton swab to remove the dust attached to the filter.
Our hair dryer is configured with earth leakage protection. If the dryer can't turn on, press the test button first to check your circuit breaker firstly. If everything is OK, then press the reset button on the plug to empower the hair dryer.
It weighs 1.26lbs(570g) and is 10.94 inches(270mm) long from the top of the handle to where the cord begins, 3.51 inches(89.2mm) wide from the back of the dryer body to the front, 2.68 inches (68mm)wide across the body. The cord length is 5.9ft.
With regular use of about 5 minutes every day, your Tensky M200 will last for up to 32 years. That's really impressive.
Absolutely! We ship fast and free throughout the United States, with rare exceptions. Check out our shipping information here.
The Tensky M200 US version has been designed for North America homes and is not rommended to be used in other countries.
Due to the high air velocity, it is more helpful to use the concentrated nozzle to avoid tangling. Meanwhile, try using the dryer with a hairbrush or round brush in your other hand as you dry to help focus airflow on the desired section of hair.
Basically, if anything goes wrong with your dryer AT ALL- we've got you. We'll repair or replace anything that isn't working like it should for you and your amazing hair. For more details, click here.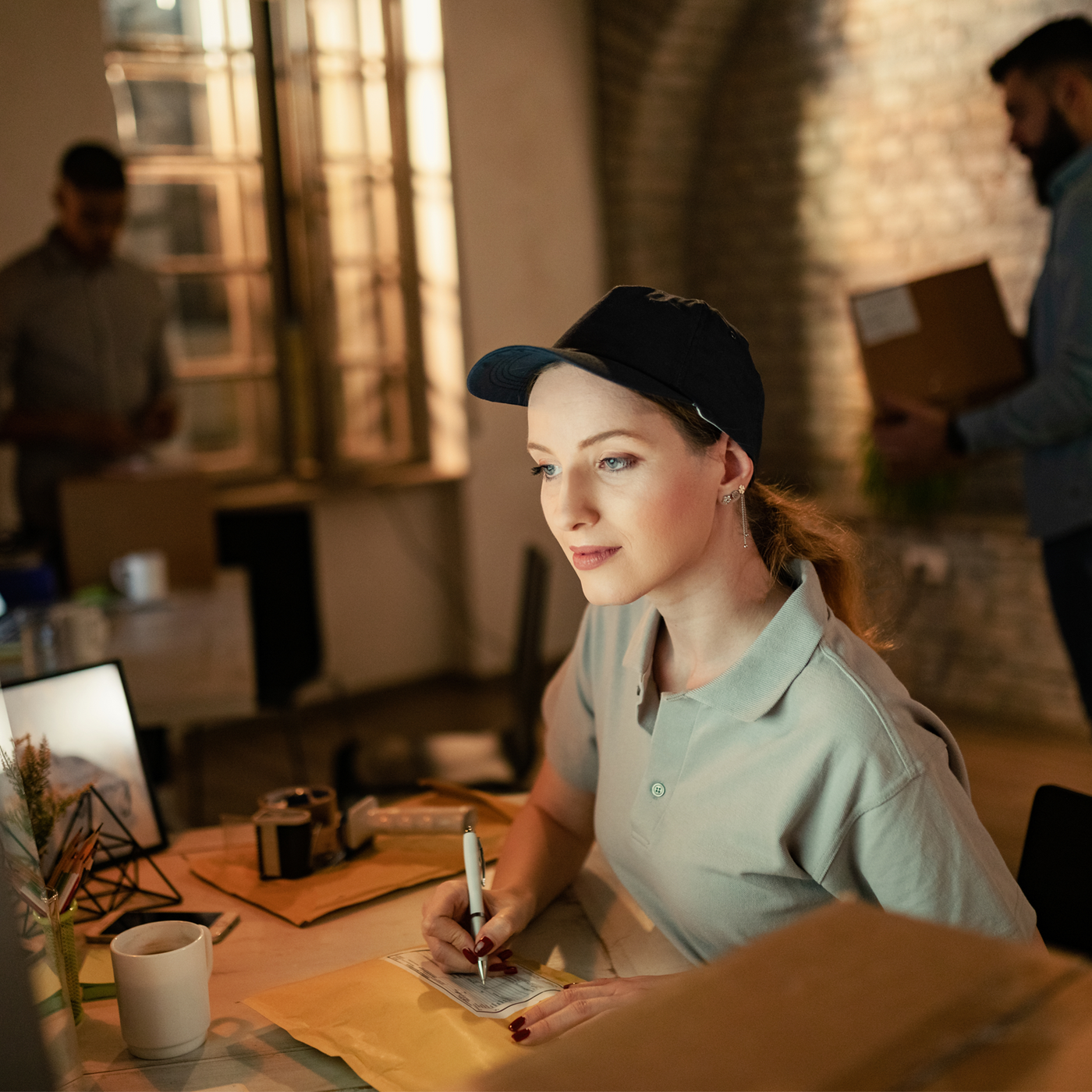 DOWNLOAD TO KNOW MORE
If you want to know more about the smart watch, click the button to download the latest file, and the 24-hour customer service is online for you at any time.